KNYSNA NEWS – Out with the old and in with new was what Allsound Security company did last week when they introduced 12 new vehicles to Knysna key stakeholders including the SAPS, those involved in neighbourhood watches, dignitaries from the municipality, protection services and other role­players in the town.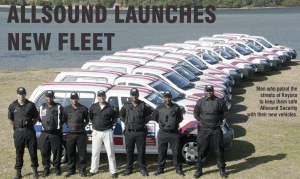 All 12 spanking new Nissan NP200s were on display, as the company say they replace vehicles every two years.
"Reliability is essential when it comes to protecting your loved ones and your belongings. To ensure that our response vehicles are in good running at your time of need, Allsound Security alternate the fleet every two years to live by our logo … Keeping Knysna Safe since 1993," said manager Ashley Boetius. 
The company was started by director Andy Stunden, who was present at the function held at the Waterfront on the Knysna High School fields last Wednesday, January 20. In the early days, the company had one motorbike responding to alarms.
Colin Stunden worked as a response officer and also handled alarm installations with his dad running the day to day operations, said Boetius. Today, Andy Stunden is on well-deserved semi-retirement and the day-to-day running of the business are overseen by director Declan Nurse and Colin Stunden.
The company has come a long way in gaining huge support in the community and now have 33 response officers of whom 11 are on shift at any given time; over 150 stationary security officers positioned at prime spots like the Knysna Mall, keeping the town safe.
Back in the office, they employ 11 people in the control room, 12 technical sales and support staff and a further 12 administrative support staff.
"This is always a great opportunity to get some photos of a special function and this year we asked Elle Redman to do the honours. The result was a fun morning and some tremendous snaps," said Boëtius.
She said a big thank you to all those who helped with the launch including off-duty officers who came in, Redman, Knysna Nissan, Avis Fleet Management, Loerie Signs, Waterfront Caltex and and all the behind-the-scenes staff.
Boetius however said the biggest thank you of all went to, 11You, our clients, for the ongoing support through the years.