KNYSNA NEWS – Using the railway line across the estuary for tourism purposes is an experience and scenery never to forget, but walking across it with stolen goods will forever remain on your criminal record.
This is what happened when a hunch prompted a Lake Brenton resident to alert Allsound Security of three people on the railway bridge who were ostensibly not there to sightsee on January 18.
Allsound spokesperson Ashley Boëtius said their control room was alerted of the oncoming suspects, who were en route to the Knysna side of the the old railway bridge.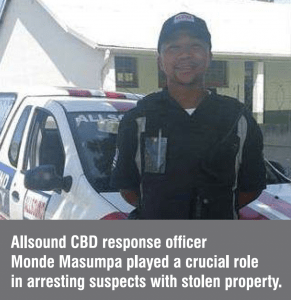 "0ur control room dispatched CBD response officer Monde Masumpa to keep on eye on the tracks leading into Knysna. Masumpa intercepted the three men at Remembrance Drive and radioed for additional backup"
"Allsound managers as well as members of the Knysna SAPS responded."
Knysna police spokesperson Sergeant Chris Spies said, "Three suspects were arrested after members of the police received information about possible criminal activities at or near Remembrance Drive."
The suspects were searched and possible stolen items found in their possession. It included a laptop, fishing rods and other household appliances.
"Further investigation took the police to a house at Brenton that was burgled earlier. Two of the suspects were released and a third suspect was charged with possession of stolen property as well as housebreaking and theft."
The suspect, Ricardo Swartz (21 ), already appeared in court on these charges. This hearing was postponed to February 2 for further investigation.