KNYSNA BUSINESS NEWS
Knysna's continuously hard-working security team Allsound Security now has a highly trained tactical response team to add to the list of security as of September 2018. The officers underwent strenuous training with Andy Fuller at his highly acclaimed facility, Homtini Tactical Shooting Academy, in Rheenendal.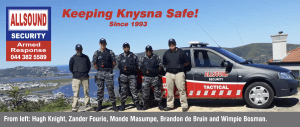 Says Andy, "The guys worked very well together as a tactical team." He emphasised the difficulty of the course and that the tactical-related duty course provides applied tactical knowledge which gives its attendees an advantage in VIP protection.
"The decision to invest in our staff and provide the training was an easy one to make, in order to enhance the peace of mind we currently strive to provide" says Allsound director Declan Nurse.
This team will attend to special operations alongside SAPS and be on duty 24/7 while supporting existing response officers in attending to security threats at all private residences, business and security estates protected by Allsound Security.
We anticipate positive results from this dedicated team and Allsound guarantees their commitment to incomparable customer service.