KNYSNA NEWS – Two Indian families visiting Knysna from Mumbai, India, came close to having their holiday wrecked by becoming victims of a house burglary on Friday night, May 26.
But thanks to swift security and police work a large amount of cash and all their belongings were returned to the couple, who were so grateful that they offered, as is their culture, to wash the feet of their heroes.
The one woman bent down and touched Knysna police Warrant Officer Francois Cowley1s feet, saying it was their tradition to say thank you in this way.
Following reports of someone peering through an accommodation establishment's window around 23:30 that night, members of the Brenton Owls neighbourhood watch, Allsound Security and the police responded to the call in the area.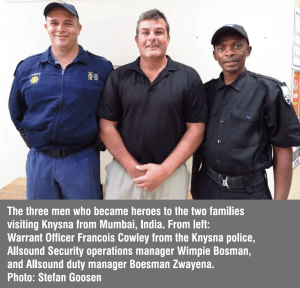 Since this first alert there were already vehicle patrols out, and Cowley and Allsound1s operations manager Wimpie Bosman on foot beat, so it wasn1t long before they noticed a window at another accommodation establishment standing wide open. As they approached, a suspect clambered out and fled into the bushes.
The resident family, a husband and wife, were woken up by the officers and they confirmed that a number of items were missing, including passports and a large sum of cash.
After an extensive search of the surrounds, it was decided to retreat to the Knysna side of the train bridge and keep a lookout for the suspect.
At around 02:45, the officers' patience paid off when the suspect emerged off the train tracks.
While Allsound duty manager Boesman Zwayena distracted the suspect, Bosman approached from behind and grabbed hold of him. The suspect was searched and found in possession of cellphones, R55,000 cash and other miscellaneous items.
After taking the suspect back to Brenton, the family1s passports and a camera were also recovered.
Tears flowed as each batch of belongings was being handed over to the victims, until they had received absolutely everything back.
All officers involved commented that seeing the tears of joy from all the family members was a reminder of what makes their job so rewarding.