KNYSNA NEWS – Within only a month of its inception, the Knysna Closed Circuit Television (KCCTV) project has played a vital role in arresting suspects, with their latest triumph being the apprehending of fraud suspects on Friday, October 14.
The project unveiled its cameras and monitoring facility at the Allsound Security control room on September 15, with four cameras facing different directions on the corner of Gray and Main Street.
According to Allsound director Declan Nurse, the initial incident happened on Thursday, October 13, when two tourists were conned.
"One of the suspects pretended to be a car guard and asked the tourist to pay for their parking while the couple was at the ATM . The suspect then advised the victim to pay the money at the ATM with a bank card. Some difficulty arose when he tried to use the ATM and returned to his vehicle without the bank card, discovering that the suspect had left with his card."
An amount of R10 000 was later withdrawn from an ATM at a local petrol service station in Main Street.
He said the cameras could not see where they were parked in the mall, but the CCTV footage of a camera on Main Street revealed the registration number of the car the suspects were driving, and messages were sent to the SAPS and various groups to help locate the car.
"On Friday, October 14 one of our security guards saw the car driving past into lower end of Gray Street. The vehicle was then located and because our cars are branded we couldn't risk going to the scene with them, so the operation's manager went to the scene with his unmarked car and with the help from Niqua Security and our security guards they managed to make an arrest."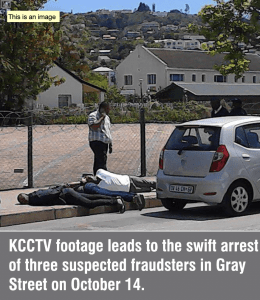 KCCTV chairperson Mike Elliot said, "This proves that we need to fight crime and we need to use all possible advantages to do so. The more cameras this town can have, the more impact this project can have."
He said the project has many possibilities, but depends on funding to grow.
Knysna SAPS communications officer Chris Spies said, "Cooperation between the Knysna police, local security companies and the business community led to the arrest of three suspects in connection with an incident of fraud at an ATM on Friday, October 14 at Gray Street."
He said the suspects aged 30, 35 and 36, believed to be from Cape Town, appeared in the Knysna Magistrate1s Court on October 16 on charges of fraud.
The Knysna police station commander Colonel Atwell Metu commended the vigilance of the people involved, especially Niqua and Allsound security officers who assisted with this arrest.
"We want to appeal to the public to be extra cautious of their surroundings and suspicious looking persons when using ATM's," concluded Spies.